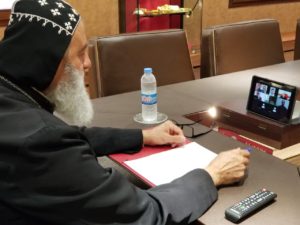 On July 8, 2021, His Holiness Patriarch Mor Ignatius Aphrem II, as President of the MECC for the family of Oriental Orthodox Churches, presided over a virtual meeting of the Presidents of MECC. His Beatitude Patriarch Cardinal Mar Rafael Louis Sako, President of MECC for the family of Catholic Churches, Right Rev. Dr. Habib Badr, President of MECC for the Evangelical Family, and Dr. Michel Abs, General Secretary of MECC, also participated in the meeting.
Mr. Adel Syryany, the Associate General Secretary of MECC for the Oriental Orthodox Churches Family, and the other Associate General Secretaries also attended the meeting.
His Holiness and the Presidents of MECC discussed the situation of the churches in the Middle East and matters concerning the council, especially the work of the various departments of the council.
Click to view slideshow.