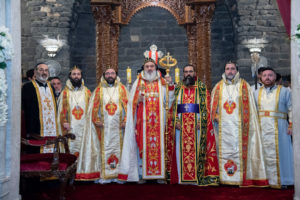 On July 12, 2021, His Holiness Patriarch Mor Ignatius Aphrem II celebrated the Holy Qurobo at the Lady of the Girdle (Zunoro) Cathedral in Homs.
After reading the Gospel, His Holiness spoke in his sermon about the Lord's choosing priests to serve His church and people. He distributes the talents to them to guide people towards their salvation, transmitting the word of the gospel to them and helping them grow spiritually. His Holiness also spoke about the rank of Khuroyo historically. During the Holy Qurobo, His Holiness elevated Rev. Fr. Zuhri Khazaal to the rank of Khuroyo.
His Holiness was assisted by their Eminences Archbishops: Mor Timotheos Matta Al-Khoury, Archbishop of Homs, Hama, Tartous and Environs, Mor Yacoub Babawi, Patriarchal Vicar for Monks Affairs and the Administration of Mor Aphrem Theological Seminary in Maarat Saydnaya, and Mor Joseph Bali, Patriarchal Secretary.
After the elevation to the rank of Khuroyo, Fr. Zuhri delivered a sermon in which he thanked the Lord for the additional talent given to him and the orher talents. He also spoke about his ministry which started over 26 years ago. He thanked his family and friends as well as the fellow priests whom he served with. He renewed his promise to work and serve in the church.
At the end of the sermon, His Eminence Mor Timotheos Matta Al-Khoury welcomed his Holiness and the accompanying delegation, thanking him for his presence on this special occasion.