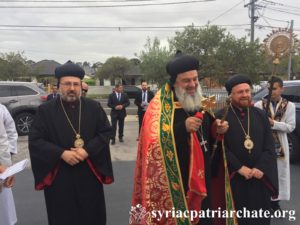 His Holiness Patriarch Mor Ignatius Aphrem II presided over evening (ramsho) prayer at St. Malke church in New South Wales in Sydney.
Their Eminences: Mor Malatius Malki Malki, Patriarchal Vicar in Australia & New Zealand, and Mor Nicodemus Daoud Sharaf, Metropolitan of Mosul, Kurdistan and their Environs, as well as the clergy and a crowd of faithful attended the prayer.
After the prayer, His Holiness and their Eminences attended a reception made on the occasion of His Holiness First Apostolic Visit to Australia.
During the reception, the choir of children chanted Syriac Chants. His Holiness then distributed for the children certificates of participation.
Click to view slideshow.