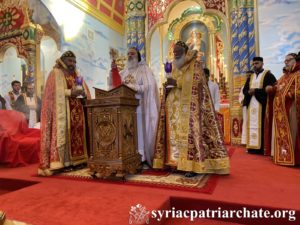 On November 3, 2019, His Holiness Patriarch Mor Ignatius Aphrem II celebrated the Holy Qurobo at St. Mary Church in Houston.
During the Holy Qurobo, His Holiness was assisted by their Eminences Archbishops: Mor Theethose Yeldho, Archbishop of the Malankara Archdiocese of Northern America, Mor Severius Abraham, Assistant Metropolitan of the Angamali Diocese, and Mor Dionysius John Kawak, Patriarchal Vicar of the Archdiocese of Eastern USA.
In his sermon, His Holiness congratulated His Eminence Mor Theethose Yeldho, the parish priest and the members of St. Mary parish in Houston for completing the building of their new church and spoke about the consecration of the church as a dedication of the entire congregation. After consecration, the building becomes a home for God and for all those who seek Him. His Holiness explained that this Sunday coincides with the beginning of the liturgical year and it is called the Sunday of the Consecration of the Church, where the entire creation is the church of the Lord which He sanctifies and makes holy. He mentioned the pillars of the church which are the apostolic faith and the teachings of the Fathers.
At the end of the Holy Qurobo, His Holiness offered the service of the saints on the occasion of the feast of Mor Gregorius Parumala. On the request of His Eminence Mor Theethose Yeldho, His Holiness bestowed on Rev. Fr. Paul Thotakat the pectoral cross.
Following the Holy Qurobo, His Holiness met the children of the Sunday School program in the parish and blessed them after answering their questions.
Click to view slideshow.