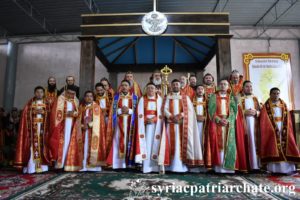 On November 9, 2019, His Holiness Patriarch Mor Ignatius Aphrem II celebrated the Holy Qurobo at the Headquarters of the Archdiocese of Central America in San Raymundo – Guatemala. In the Holy Qurobo, His Holiness ordained 11 deacons into priesthood: 6 from Guatemala, 3 from Colombia and 2 from Mexico.
Their Eminences Archbishops: Mor Yacoub Eduardo, Archbishop of Central America, Mor Clemis Eugene Kaplan, Patriarchal Vicar of the Archdiocese for the Western USA, Mor Selwanos Boutros Al-Nehmeh, Archbishop of Homs, Hama, Tartous and Environs, Mor Dionysius John Kawak, Patriarchal Vicar of the Archdiocese for the Eastern USA, and Mor Titos Boulos Touza, Apostolic Nuncio for the Syriac Missions in Brazil, assisted His Holiness in the Holy Qurobo.
In his sermon, His Holiness gave praise to the Lord for His abundant grace that enabled him and the Archbishops to witness this important and historical event of the ordination of 11 priests. He told the faithful that every moment spent with them is very much appreciated because he feels the faithfulness of the people and the attachment to the Church of Antioch. He spoke about the work of the divine grace in the newly ordained priests who will go forth and administer the sacraments. He explained the gospel that was read and reminded the faithful that the priests are like the Lord's disciples who came to know His mysteries after He revealed to them the spiritual meanings of His teachings. He added that the priests are representatives of the Lord in their respective communities and they are an image of the first church.
At the end of his sermon, His Holiness presented a cross to His Eminence Mor Yacoub Eduardo as a token of appreciation for his ministry and devotion to the Holy Church.
Click to view slideshow.