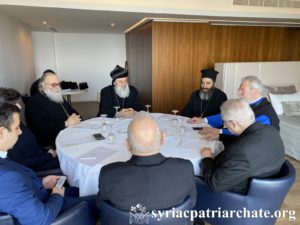 On January 21, 2020, His Holiness Patriarch Mor Ignatius Aphrem II met his brother in Christ His Beatutide Archbishop Chrysostomos II, Archbishop of Nova Justiniana and All Cyprus. Their Beatitudes John X, Greek Orthodox Patriarch of Antioch and All the East, Cardinal Mar Louis Raphael Sako, Patriarch of Babylon for Chaldeans, Rev. Dr. Habib Badr, Senior Pastor of the National Evangelical Church of Beirut, as well as Dr. Souraya Bachaalany, Acting Secretary General of MECC, participated also in the meeting.
His Beatitude Archbishop Chrysostomos II welcomed His Holiness and their Beatitudes to Cyprus, wishing them success in the meetings of the MECC Executive Committee. Their Holiness and Beatitudes discussed the current situation in the Middle East, especially the severe economic situation that is affecting Christians as well as their compatriots in all the countries of the Middle East. They hoped that the churches would be able to offer a common witness in these difficult times.
Click to view slideshow.