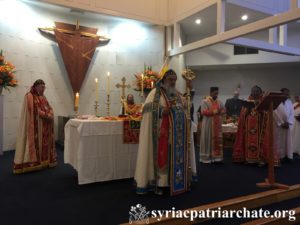 His Holiness Patriarch Mor Ignatius Aphrem II celebrated the Holy Qurobo for the faithful of the parishes of Mor Aphrem Church and St. Peter the Apostle Church in Perth.
He was assisted by their Eminences: Mor Malatius Malki Malki, Patriarchal Vicar in Australia & New Zealand, and Mor Nicodemus Daoud Sharaf, Metropolitan of Mosul, Kurdistan and their Environs, and Mor Melethiose Youhanon, Patriarchal Vicar in Australia and New Zealand for the faithful of our Church from Malankara.
In his sermon, His Holiness spoke about the Christian faith that strengthens the believers and allows them to win their souls instead of wasting them going after the delights of the world.
At the end of his homily, His Holiness granted a pectoral cross to Very Rev. Fr. Boutros Touma Issa as a token of appreciation for his devotion in his ministry for more than 58 years. At the end of the Holy Qurobo, His Holiness prayed the special teshmeshto of the Holy Martyrs in remembrance of the Martyrs of the Syriac Genocide Sayfo.
Click to view slideshow.