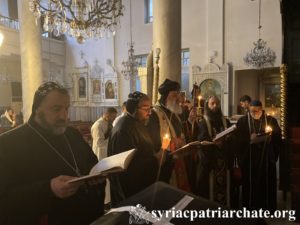 On April 12, 2020, His Holiness Patriarch Mor Ignatius Aphrem II celebrated the Service of Nahire (the Feast of Lights), at St. Georges Patriarchal Cathedral in Bab Touma, Damascus.
This service was attended by their Eminences Archbishops: Mor Timotheos Matta Al-Khoury, Patriarchal Vicar in the Patriarchal Archdiocese of Damascus, Mor Anthimos Jack Yacoub, Patriarchal Vicar for the Youth Affairs and Christian Education, and Mor Yacoub Babawi, Patriarchal Vicar for the Affairs of Monks and the Administration of Mor Aphrem Theological Seminary, as well as the clergy of the Patriarchal Archdiocese of Damascus and some of the seminarians of Mor Aphrem Theological Seminary.
His Eminence Mor Anthimos Jack Yacoub spoke about the mercy of God Who is the only one able to give us true hope and to cast away our fears. He emphasized that the church is not a building; rather, it is the faithful who are the living stones that build the community and the society. About the service of the nahire, or arrival to the port, His Eminence explained that the ten virgins represent the church and the Lord Jesus Christ had promised to given the whole church salvation. He pointed out that the scene of the ignorant virgins is painful because they stayed outside, away from the heavenly groom even though they are part of the church. He added that the reason why they remained outside is because they were holding to false hope, as many believers do when they become attached to appearances but remain remote from the Holy One. He also spoke about the importance to complete our way with the Lord with true repentance based on good hope who is Jesus Christ, not like Judas whose remorse led him to hang himself, or the woman of Loth who did not complete her journey with God. At the end of his sermon, His Eminence called the faithful to be vigil in renewing themselves spiritually through true repentance, that they may harvest true joy by being always with the heavenly groom.
Click to view slideshow.