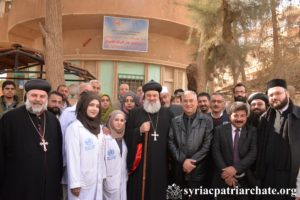 His Holiness Patriarch Mor Ignatius Aphrem II inaugurated St. Ephrem Charity Clinic in Deir ez-Zor in the presence of His Excellency the Governor of Deir ez-Zor Mr. Mohammad Ibrahim Samra.
He was accompanied by their Eminences: Mor Maurice Amsih, Archbishop of Jazeera and Euphrates, and Mor Timotheos Matta Al-Khoury, Patriarchal Vicar in the Patriarchal Archdiocese of Damascus, Very Rev. Raban Joseph Bali, Patriarchal Secretary and Media Office Director, Rev. Fr. Gabriel Khago, and Deacon Imad Syryany.
The clinic is a common project between St. Ephrem Patriarchal Development Committee (EPDC) and World Health Organization (WHO), and is the first of its kind in Deir ez-Zor after the crisis. The clinic offers free medicine and medical services to all citizens.
His Holiness prayed that the Lord may bless the clinic, its administration, doctors, and all those who work in it or come to it seeking medication. He then made a tour in the different sections of the clinic.
Click to view slideshow.