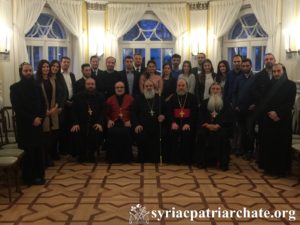 His Holiness Patriarch Mor Ignatius Aphrem II meets representatives of the youth from the Dioceses of Central Europe and the Benelux.
Their Eminences: Mor Dionysius Issa Gurbuz, Patriarchal Vicar in Switzerland and Austria, Mor Philoxenus Mattias Nayis, Patriarchal Vicar in Germany, Mor Julius Hanna Aydin, Director of External Relations in Germany, and Mor George Kourieh, Patriarchal Vicar in Belgium, France and Luxembourg, attended the meeting.
The youth were given the opportunity to express their concerns and needs as well as their expectations from their mother church, the Syriac Orthodox Church.
They discussed many issues related to the use of Syriac language, as well as the need for more developed books for religious education that give a wider knowledge of the history and traditions of our church.
His Holiness and their Eminences gave their guiding remarks and a delegation from the youth will meet again to follow up the recommendation.
Click to view slideshow.