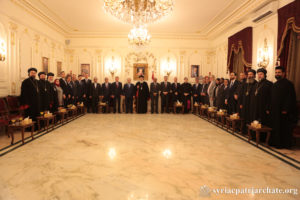 On the occasion of the New Year 2020, His Holiness Patriarch Mor Ignatius Aphrem II invited their Excellencies the Ambassadors, Charge d'Affaires and Diplomatic Representatives of Foreign Missions in Syria to a Formal Reception at the Patriarchate in Bab Touma.
The reception was attended by His Excellency Dr. Faysal Mokdad, Syrian Deputy Foreign Minister, as well as the ambassadors or heads of missions of various countries.
His Holiness Patriarch Aphrem II welcomed their Excellencies in one of Syria's homes, which is open for all and welcomes all. He said that it is a pleasure to welcome all of them into the established tradition of meeting at the beginning of each year. He wished everyone a blessed new year full of prosperity and peace. He said that this reception allows to reflect on the past year, in its happy and not-so-happy times. He affirmed that despite the insistence of many to create violence and war in Syria, good will is going to prevail and peace will reign again. He greeted those who offered many sacrifices for their countries and spoke about the sanctions imposed on Syria. He highlighted that these sanctions are causing the average Syrian people to suffer; however, he is hopeful that endurance will ultimately bring victory to the Syrian people and will help reclaiming the entire Syrian geography, united for all Syrians. He concluded by thanking their Excellencies and wishing them and their countries all the success and prosperity in this new year.
His Excellency Dr. Mokdad thanked His Holiness for gathering the diplomats in one of Syria's house of God and hoped that all the peoples in the region will be united to lead humanity into the future. He assured that Syria is always optimistic about its future when the religious leader are preaching love and mercy to the Syrians. He addressed the ambassadors promising to facilitate their mission and hope they will also convey the real situation of Syria to their countries.
His Excellency Ambassador of Iran offered his congratulatory greetings to His Holiness and through him to Syria, hoping that this year will be the end of the crisis in Syria. The Russian Ambassador thanked His Holiness for underlining the role of Russia in fighting terrorism in Syria and promised to continue to make all efforts to eliminate war and violence from Syria. The Ambassador of Iraq expressed the common suffering of the Iraqi people and the Syrian people from religious fanatism which she considered to be a common threat to all the countries in the Middle East.
Their Eminences Archbishops: Mor Timotheos Matta Al-Khoury, Patriarchal Vicar in the Patriarchal Archdiocese of Damascus, Mor Maurice Amsih, Archbishop of Jazeera and Euphrates, Mor Anthimos Jack Yakoub, Patriarchal Vicar for Youth Affairs and Christian Education, Mor Boutros Kassis, Patriarchal Assistant and Patriarchal Delegate to the Archdiocese of Aleppo and Environs, Mor Yakoub Babawi, Patriarchal Vicar for the Affairs of the Monks and the Administration of Mor Aphrem Theological Seminary in Maarat Saydnaya, Very Rev. Fr. Markose Abraham, Patriarchal Secretary for Indian Affairs, and Very Rev. Raban Joseph Bali, Patriarchal Secretary and Media Office Director, were also present at the reception.
Click to view slideshow.