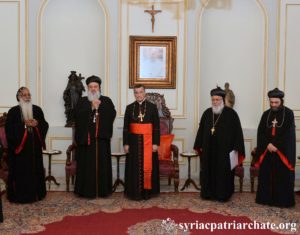 On July 18th 2018, His Holiness Patriarch Mor Ignatius Aphrem II offered his condolences to His Brother in Christ His Beatitude and Eminence Cardinal Mar Bechara Boutros Al-Rai, Maronite Patriach of Antioch and All the East, on the passing away of his sister Mrs. Farha Al-Rai, at the Patriarchate Headquarters in Bkerki.
He was accompanied by their Eminences Mor Theophilos George Saliba, Archbishop of Mount Lebanon and Tripoli, Mor Dioscoros Kuriakose, Metropolitan of the Simahasana Churches in the North of Kerala and Abbot of Malecuriz Dayro, Mor Athanasius Elia Bahi, Patriarchal Vicar of Canada, Very Rev. Raban Joseph Bali, Patriarchal Secretary and Media Office Director, and Very Rev. Raban Cyril Babi, Director of the Department of Legal Affairs and Spiritual Courts.
His Excellency Archbishop Paul Sayyah, Vicar General of the Maronite Church, was present
His Holiness, His Beatitude, and their Eminences and Excellency raised special prayer that her soul may rest in peace.
Click to view slideshow.