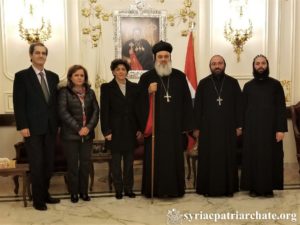 On December 9, 2018, His Holiness Patriarch Mor Ignatius Aphrem II received Dr. Thuraya Bachaalani, Acting General Secretary of the Middle East Council of Churches (MECC), at the Patriarchate Headquarters in Bab Touma – Damascus.
She was accompanied by Ms. Huguette Salameh, Communication and Public Relations Department Director, and Mr. Ghassan Shahin, Director of MECC-Syria.
His Eminence Mor Timotheos Matta Al-Khoury, Patriarchal Vicar in the Patriarchal Archdiocese of Damascus, and Very Rev. Raban Joseph Bali, Patriarchal Secretary and Media Office Director, attended the meeting.
Dr. Bachaalani reported to His Holiness about the administrative and theological projects led by MECC. They also discussed the agenda of the next meeting of the Executive Committee of MECC which will be hosted by our Syriac Orthodox Church next January.
Mr. Shahin gave an overview about the relief and help projects executed by MECC in Syria with the collaboration of St. Ephrem Patriarchal Development Committee (EPDC) as well as all the relief committees of the member churches.
Then, Ms. Salameh reported about the work of the department of communication and public relation, remarking the department's aim of moving from the informative media towards media of positional media.
His Holiness assured that the role of the member churches is to support the work of the council for what important mission it has in strengthening the presence of Christians in the Middle East in the face of all agendas that aim at the opposite.